Self-service portal instructions for lecturers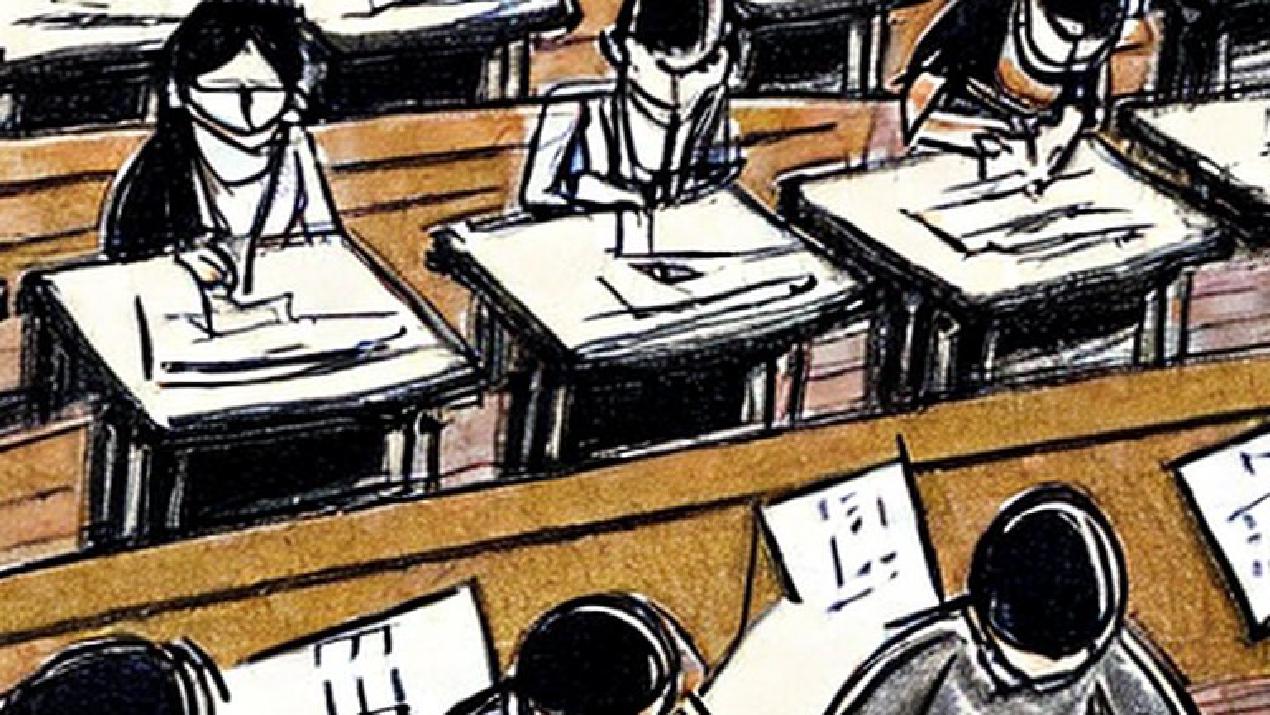 Our self-service portal is available at https://umfrage.mpic.fs.tum.de/. This guide is intended to explain how to use the portal.
How do I get access?
Editing data is only possible with a personal invitation link. This will be issued via an email to all persons who are registered in TUMonline for at least one lecture. If this is not the case for you or if you have generally not received an e-mail from us, please contact us including the name of the lectures!
How do I edit a lecture?
If you follow the invitation link, then you come to the lecture overview. If there are any lectures missing, please contact us including the name of the lectures! After that press Edit.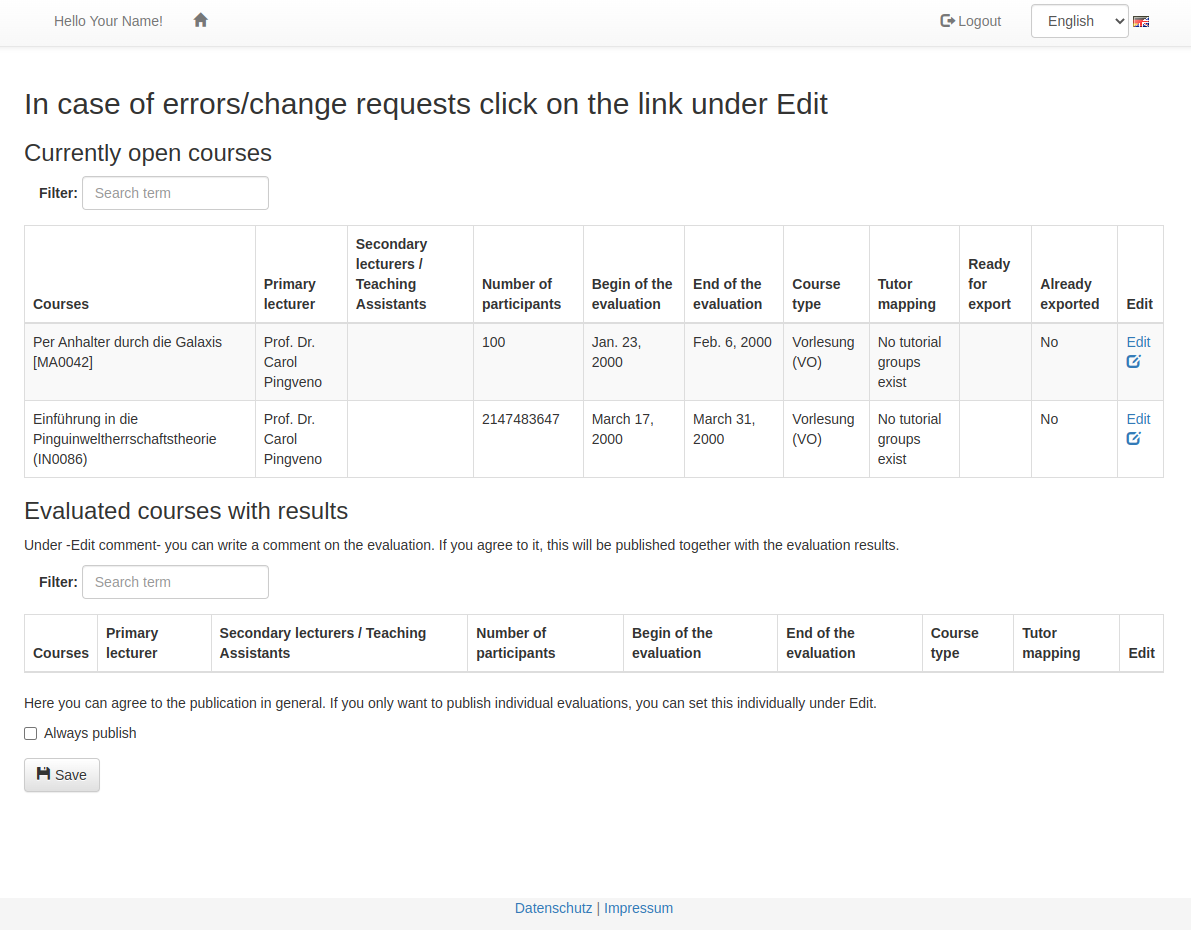 What can I edit on a lecture?
CourseID and course name: This data is taken from TUMonline and cannot be edited. If there is an error here, it is also present in TUMonline. Therefore, please have the error corrected in TUMonline so that it does not occur every year. After that, you can email us or leave a comment in the portal and we will correct it accordingly.

Primary and secondary lecturers: All persons registered here can edit the course in the self-service portal and will receive the evaluation later. If a person does not appear in the list, please write us an email or leave a comment in the portal mentioning the name and the LRZ-ID.

Questionnaire: Please select the correct questionnaire here. Especially for an event with small group exercises it is very important that you provide a tutor assignment.

Ready for export: If you are done with all settings and there are no further concerns, then check this box. This can be used to evaluate a lecture earlier than the standard evaluation period. This option may not be available.

Survey start and end: Here you can change the evaluation period. Please note that the selectable period is limited. If you need an exception, please contact us with the reason.

Tutor Assignment: If your course has small group tutorials, please provide an assignment. You can either upload a CSV or use the online editor. This is needed so that students can clearly assign their group with a number. You can then create evaluations separately by group to make more sense of the feedback.
Do not forget to save!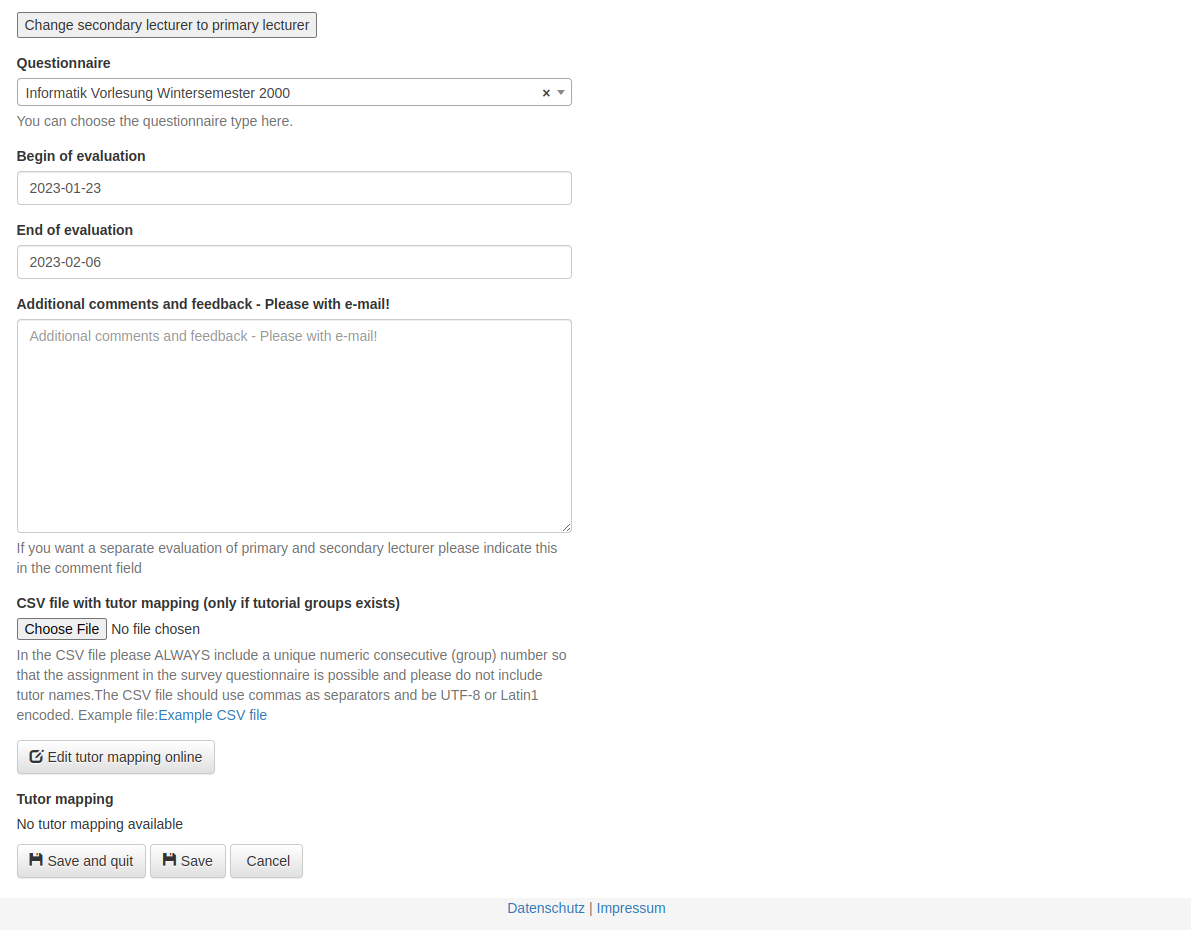 What happens after the editing phase is complete?
After the editing phase is completed, we check the data and export it to EvaSys. For technical reasons, only the primary lecturer will receive the survey start notification and response rate notification. Please forward these emails to your secondary lecturers if needed!
What happens at the end of the evaluation period?
When all surveys are completed, you will receive another email. In this one, you will again receive the personalized link. You will then have the opportunity to submit a statement about your evaluations in our self-service portal. The statement will be displayed together with the published survey. The main results of all surveys that received at least 5 responses are published university-wide. There is no possibility to object to this. Publication is mandatory by BayHIG, Article 7, Paragraph 3, Sentence 4. You can read this here.